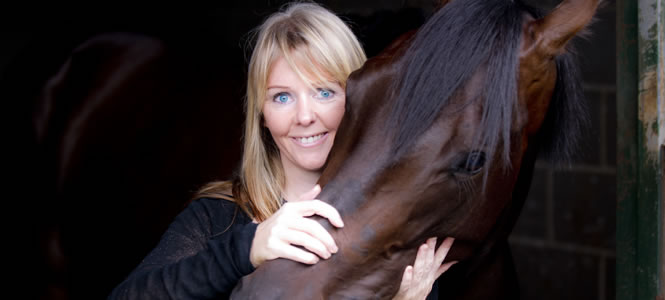 Sharon Chapman was a law clerk by weekday, wedding photographer by weekend, when a friend who owned a racehorse invited her to Caulfield Race Course to photograph the horses' track work. She took some shots for her portfolio, impressed one of the trainers and was hired as the stable photographer.
Sharon left the law firm to focus on her business, Whole Package Photographics, and now does wedding, portrait, and racing photography full time. Things were going well, and then she took that photo.
"I was at Warnambool last year and lucked into a media pass. A horse jumped the barrier into a crowd of people, and even though there were seven press photographers there, I was the only one who got the shot. After a bidding war, it was printed in the Herald Sun, The Australian, The New York Times, and the Washington Post."
Sharon won the Quill Award for the photo and quickly made a name in an industry to which she was fairly new.
"I could easily approach race clubs and stud farms, and it no longer mattered that I didn't have 20 years' experience."
Given the strong interest in her work, Sharon needed to present her photography on a professional-looking website. She had used SmugMug in a previous job in the States, but was looking for a local solution.
I shopped around and found other services with features similar to Fotomerchant's, but Fotomerchant is the most user-friendly, and the website templates and galleries look better and more professional than the competitors'. The fact that Fotomerchant uses Nulab, the local print lab I also use, is a big bonus.

Fotomerchant gives me a professional platform to present my work and I use it for galleries and print sales. It's great for wedding clients because guests and overseas friends and family that couldn't attend can view and purchase images online.

Because of copyright and licensing, I don't upload my race day photos taken in Victoria, but I do use galleries to sell prints of racing awards nights I've covered or general horse images, whether they be in the spelling paddock or at trackwork. For example, I recently had someone purchase an image of a mare and foal from my stock library to use on their junior membership cards for their upcoming racing season
Sharon is busy with horse racing work during the week, and weddings on the weekends, which means that when she runs into problems with her software, she doesn't have time for slow customer support.
"Fotomerchant's support is great. Any time I've had a problem, I've had responses from support straight away, and there has been a lot of follow up. Sometimes you run into problems using a piece of software, and the support centre is in America so you can never get hold of people. Fotomerchant is always available."
Breaking into the racing industry has taken Sharon's photography to unexpected places.
"I just did a family shoot in Euroa for a horse trainer, and I'm getting booked to do weddings for book makers, race starters, and other people in the industry. I'm working in a specialised industry, but it doesn't mean I'm just doing horse racing; I now have a niche as a wedding and portrait photographer in the racing industry, and that's great for my business."
Check out Sharon's Fotomerchant website: sharonleechapmanphotography.fotomerchant.com