Impress Your Clients With These Features
Your Website
Beautiful and easy to use designs make creating your website a breeze. Photo sliders, a built in blog, SEO tools and custom domain names are just the beginning.
Your Art
Flexible photo gallery layouts, image security, watermarking, password protection and extensive time-saving workflow options are just a few of the tools Fotomerchant brings to the table.
Your Store
Sell digital and print products through your website with DIY and automated print fulfilment. Set your own prices and create discounts, manage customers and more.
Order Fulfilment
You can process your own orders, or let us do the heavy lifting for you.
Digital Files & Licensing
Sell your photos as digital files (JPEG) complete with licence, download, size and time limits that you determine. Your customers can download the images individually or combined as a zipped file.
DIY Order Fulfilment
Create and sell the print products of your choosing and then arrange for the printing and fulfilment using your own printer or print lab. Fotomerchant will process the payment, supply your customer with an email invoice and provide you with the details you need to process and deliver the order.
Automated Order Fulfilment
Simplify your workload and allow our quality partner labs to take care of the printing and shipping for you. Fotomerchant will process the payment and then electronically send your high resolution artwork and order instructions to our labs for quality printing and rapid delivery to your customers.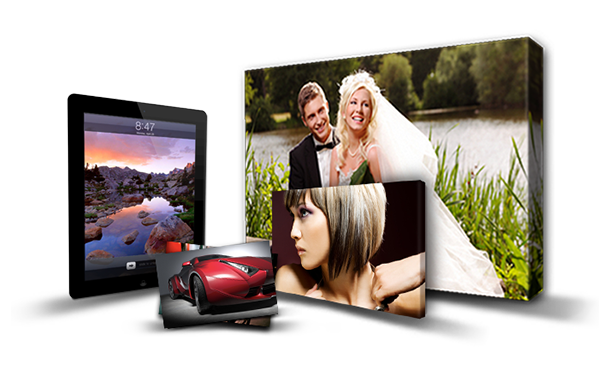 Premium Print Partners
Select from a wide range of print, archival paper types, canvas, acrylic and mounted products and set your own retail pricing. Our award winning partner labs are Bond Imaging (Australia),  Nulab Professional Imaging (Australia), Atkins (Australia) and Full Color (USA) with more lab announcements coming soon.
All serious photographers need Fotomerchant.
Try it FREE for 14 days. 100% Risk free. No credit card required.
Security
Comprehensive image, gallery and category security
Streamlined Workflow
We do everything we can to simplify your workflow
Fast Uploads
The new Fotomerchant uploading and processing engine now uploads your photos 250% faster – as fast as your internet connection allows! Plus, the new drag-and-drop uploader allows you to quickly add images into a gallery on the fly.
Image Resizing
Upload your highest resolution photos and our lightning-fast image processors will take care of the rest, dynamically generating your website preview and thumbnail images on the fly. Alternatively, upload lower resolution files and swap them for higher resolution images only once they are sold.
Hot Key Magic
Power users will love the new keyboard shortcuts (hot keys) for managing your photo libraries. Single stoke keys can select all, delete, move, tag, preview and quickly set visiblility.
Get Social
Make sure your social network knows what you're up to
Social Sharing
Your customers can share your photos across their social networks including Facebook, Twitter, Google+, LinkedIn, Tumblr (and now!) Pinterest. All shared links will display a watermarked image preview, your website domain and will link directly back to your online gallery and store. Benefit from having your customers share their love for your photos but with security on your terms.
Social Publishing
Promote your galleries across your network of social sites with Social Publishing. Push out a link, image preview and a custom description of your galleries directly to Twitter and LinkedIn, plus your personal Facebook timeline and any Facebook or Tumblr pages that you administer.
Integrations
Use your own URL shortener by connecting your Bit.ly account.Track your website visitors and sales funnels by adding your own Google Analytics ID and verify your website's indexing with Google Webmaster Tools.
Professional Tools
The all new Fotomerchant application is hosted and served from the highest quality cloud infrastructure. All you need is a web browser and an internet connection to create, upload, organise and promote.
Grows with your business
Serious photographers realise that you need more than just a website to stay competitive and relevant in today's rapidly changing economy. Fotomerchant can take your business or hobby to another level with a growing range of tools that enable you to promote, sell and engage your customers.
Be up and running in less time than it takes to make a coffee.
Try it FREE for 14 days. 100% Risk free. No credit card required.
There's More
There are too many features to list. But here's some highlights
For Serious Photographers
Designed and built for professional & amateur photographers, Fotomerchant is helping photographers build a professional online presence.
Wedding
Wedding photographers are using a mix of features including the secure galleries, social sharing and on-line proofing for after-market sales.
Portrait
Portrait photographers and studios are generating additional revenue by publishing limited edition products to clients after the projection sales process is complete.
Landscape, Fine Art and Street
Landscape, Fine Art and Street photographers are selling large format canvas, acrylic and mounted products and tend to manage the fulfilment process themselves.
Sports and Event
Sports and Event photographers are uploading hundreds of images directly after an event, are publishing their galleries using the integrated social marketing tools and are selling prints and digital files with immediate effect.
Commercial
Commercial photographers love the secure login and digital licensing options while Clubs and Charities are using it to generate additional revenue.
School
School photographers are selling packages of prints and digital files to parents and families.
Unlimited Hosting
Yep, "unlimited" means you can upload as many maximum resolution images or galleries as you like (in fact, we encourage it!). Our cloud based servers are constantly backed up and your images and data are safely protected by multiple levels of security.
Your site is optimised for speed and your photos will load super fast thanks to our ultra-quick Content Delivery Network (CDN).
Amazing Customer Service
Our customer support sherpas work across the far corners of the globe offering comprehensive online support.
"Just a quick note of praise you guys rock nothing better than having a company on the same level of customer service that I offer my clients." ~ Zoom In With Eden Photography (see our customer examples)
Quality Guaranteed
We will take complete responsibility for any product or workmanship defects on any of our photographic prints failing to last 100 years. We will replace any photograph free of charge, provided it has been cared for properly.
Create your own dedicated photography website or client proofing site in less than 5 minutes.