New Design & Social Features (2014)
We finished 2014 with a flourish, releasing a stack of new features and updates that we simply ran out of time to tell you about. From a design and social sharing perspective, here are our favourite 5 new features that you will add more sparkle to your site and help you extend your social reach.
65+ Amazing New Font Styles

We've taken the best Google fonts and made it super easy to apply to your website's design. You can even see live previews before you publish them. Sign in to your account and access the 'theme' settings to see the new fonts in action.
More Social Publishing Options

In addition to Fotomerchant's one-to-many social gallery publisher, you can now also add social buttons that link to all of your social networks. All the most essential social networks are there from Twitter and Facebook to Pinterest, Vimeo and Tumblr.
Check out the new social options in your website theme for more, and if you haven't started using Fotomerchant's built in tools to promote your galleries across multiple social networks, then you should watch this how to video.
Better Event Gallery Layouts

When you have a lot of photos to display you want them to pop AND have strong actions to preview, share and buy. Updates include a new Jumbo Lightbox, faster image loading and new options to refine your unique look. It's all detailed in this blog post.
RSS for your built-in blog

Now with every new blog post you create, your subscribed readers will automatically see your great new content. This is a great way to share your latest news or photo blogging directly into popular feed readers like Feedly and Clipboard.
Or if you want to get really clever your blog feed can be hooked up to email services like Campaign Monitor and Mailchimp to automatically distribute your posts to your email database. How awesome is that!
There's nothing extra for you to do to make this happen, it happens automatically. Just type "/feed" to the end of your website url to see the raw data feed. Or simply enter your website address into a service like Feedly and your blog content will automatically be syndicated.
(see an example source RSS feed or how it would appear in a dedicated RSS reader).
Optimised for buying photos on mobile devices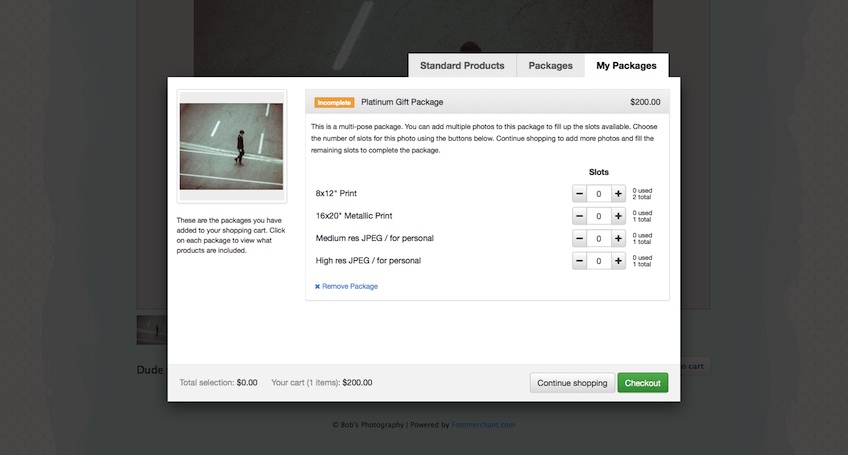 As we prepare for the release of new mobile responsive themes and our range of new design templates, we needed to move a lot of the core e-commerce functionality into dedicated pop-up windows.
This new method means that your checkout process is now better optimised for mobile devices, making it easier for your customers to purchase photos from their mobile phone.
We actually released this into the wild many months ago but have not had the chance to share it. You can read more about the changes here.
---
Would you like access to another 14 day free trial? Click the button above for another look at Fotomerchant.