New features to build your perfect portfolio website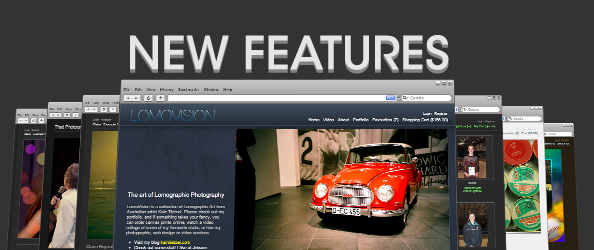 Our November 09 release saw a slew of new features to help you customize your portfolio and website design including: use your own website domain, new gallery and portfolio layouts, custom page assets and a slew of customization features.
The best thing to do is log in to your account and check out the revised tabs under Website, or if you've been sitting on the fence, our free trial is now completely risk free.
"14-Day Trial" is now 100% risk free
You now no longer have to add your credit card details to take PhotoMerchant for a spin and you will not be charged for ANY FEE's during the trial period. At the end of the trial your website will be placed into a state of suspension allowing you up to 30 days to upgrade your account and start using PhotoMerchant.
Register for your free trial today
Adding your own Website Domain
If you have your own website domain (example www.maxisphotography.com) you can now have it work seamlessly with your PhotoMerchant website. The "Custom Domain Wizard" will walk you through the process step-by-step.
Log in to PhotoMerchant and go to Website / Settings.
New "Event" gallery layout
Event photographers have been asking for a more traditional "lightbox" view for their photo Galleries – especially when attempting to display a lot of images.
It's easy to browse (especially using the native aspect ratio) and the animated slide show preview option is functional and engaging.
New "Maxis" gallery layout
The new "Maxis" layout offers a much larger image preview area and a more traditional thumbnail layout. Your photos will load quickly and dominate the screen.
You also now have the option to turn on/off: title, description and tags in addition to aligning the main preview area left or right.
New "Carousel" portfolio layout
Allow your visitors to flip through your Galleries using the new animated "Carousel" portfolio layout. Your visitors will enjoy the interaction that comes with flip-book style browsing.
Additional options allow you to have up to 4 Galleries across, and for landscape photographers, it looks even better with individual panoramas.

Add non-photo elements to your website
Using the new "Asset" tool you can now add any other media element into the Custom pages of your website such as PDF Documents, Graphics, Sound files, Videos, Zip files and Word Documents.
Just upload them into your "Assets" and you can then drag and drop them into the custom pages on your website.
Heaps more customisation options
Change the Gallery order in your Porfolio by drag & drop. Go to Photos / Gallery Order.
2x new colour schemes.
Background images – upload your own.
Improved "Image Cropping" means your portfolio thumbnails will look even better than before.
Create individual Gallery pages (instead of having to navigate via the portfolio).
Create Portfolio pages based on Category (eg, create a portfolio page that contains all your wedding galleries, and then another for all your portrait photos).
Re-order and re-name all the pages in your navigation.
Create navigation links to external sites like your blog or twitter account.
Plus many others that we cannot squeeze in to this mammoth email!
Register for your free trial today.