SEO Enhancements Now Live
SEO with Fotomerchant has just been made better and even more powerful. We're really excited about these great new SEO focused changes. We want Fotomerchant websites to perform at their very best for search engines, so we just know they will just love these new additions!
---
What is Search Engine Optimization (SEO)?
SEO is the practice of helping search engines like Google, Yahoo and Bing better understand the information available on a website. This is important because it helps increase the number of visitors and potential sales websites receive through keyword searches. There are many aspects to making a website that is SEO friendly, but optimizing for search engines doesn't have to be complicated. SEO is built into Fotomerchant and with the release of these new capabilities, it's now even easier.
Fine grained SEO controls
Fotomerchant users can now control the SEO Information of every page on their website. In many areas we will use sensible defaults like Gallery titles and descriptions to fill in this information when it is not specified. Throughout Fotomerchant users can now change the SEO Information like Meta Descriptions, Keywords and Titles for every page. A dynamic preview of SEO information is also available to see how it will all come together when search engines display pages in their search results. We have also included plenty of handy tips along the way to help form better SEO information into websites.
The new SEO Information section is available when setting up a new gallery, gallery category, web page, gallery page, gallery category page or blog post.
To learn more about when and how Fotomerchant will use sensible defaults, we have put together the following help desk articles to step through understanding your website SEO Information. Information on choosing a Keyword or Keyphrase Theme is also available.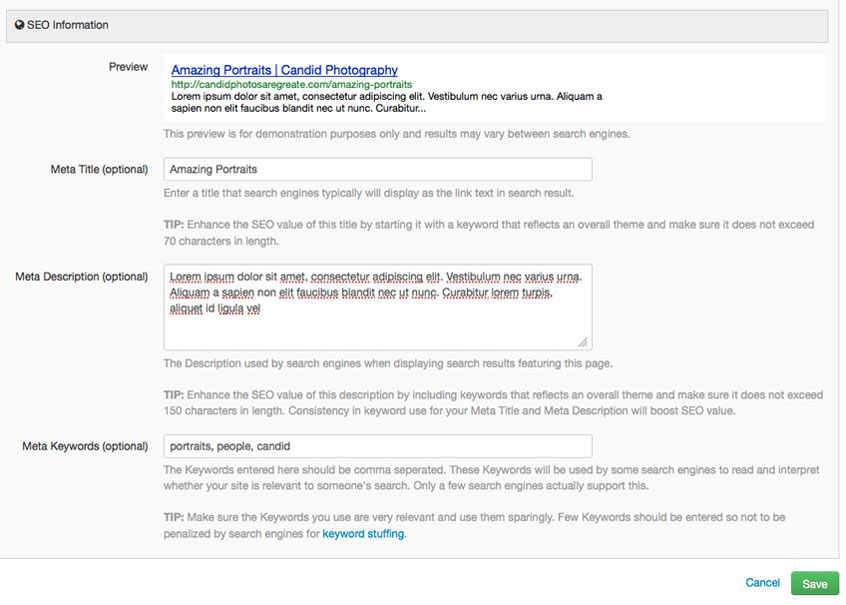 Dynamic Sitemaps
It is important for search engines to understand the structure of websites so they can find all the great information Fotomerchant websites have available. Search engines are quite clever and generally are very adept in extracting this information by themselves. A website sitemap however makes this work a lot easier for search engines and ensures that nothing is missed when they come to visit.
Fotomerchant websites now come with a fully dynamic sitemap. The sitemap is auto-generated based on the latest publicly available website content. It is also automatically picked up by search engines and includes all blog posts, pages and galleries. Fotomerchant users who use Google Webmaster Tools can also submit their website sitemap to Google. Read more about Fotomerchant Website Sitemaps here.
Improved on-page SEO Information
Achieving great results with SEO is also a matter of creating websites that contain great content that search engines love. With Fotomerchant we believe we have the right tools to help Photographers make this happen. We have gone to great lengths to make sure that as much of that valuable content associated with website pages, galleries and blogs are available to search engines to find. Additionally, images at all levels of a Fotomerchant websites now include titles and descriptions for images in ALT tags.
SEO Best Practices with Fotomerchant
Understanding your website SEO Information
Choosing a Keyword or Keyphrase Theme