Gallery enhancements
Over 50+ New Features for your making your photos look better with PhotoMerchant
We've given your website galleries an overhaul with a massive speed boost, new layout options and design tweaks, new background textures, easier to use buttons and whole lot more. Plus, new social sharing options mean your customers can share and post your images to Facebook, Twitter, Google Plus and Tumblr!
Log into your account to see the new options, look at your website to see the latest changes in action or learn more about the specific enhancements below:
Buttons and social sharing

Now your customers can "Like" your photos and share them across the major social networks: Facebook, Twitter, Google Plus+ and Tumblr. When an photos is shared the image title and description are included with the thumbnail and direct link to the image. So make sure you're diligent in renaming your photos and adding useful descriptions to your photos. You will need to activate the social sharing option in the Settings tab.
We've made it easier for your customers to buy photos and navigate your website by improving the button styles on your website. The small flat rectangles have been updated to bright, shinier buttons that provide better feedback and are a stronger "Call to Action" for your customers to interact with your photos. New icons will also make it easier for your customers to buy photos and navigate your website.
You can activate social sharing in "settings" or follow the online tutorial.
Updated gallery layouts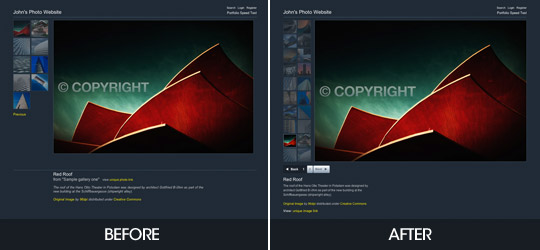 We've tweaked and refined the design layouts for the Maxis and Grande themes so that your images look bigger, brighter and download a lot faster. We've fixed a few bugs that were causing some galleries to load slowly so now your customers should have a super-slick experience. Preview image size has increased, thumbnails and typography have been tweaked and both layouts are now optimised for social sharing buttons.
Better photo navigation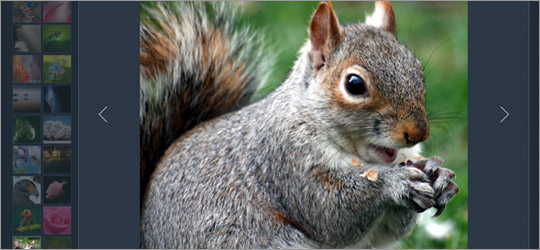 All photo galleries now allow to navigate to Next and Previous photos on the main preview image! When you move your mouse over the main preview image the left and right sides of the photo can now be clicked to progress to the next photo. Plus, you can also use your keyboard arrows to move forwards and back!
63 New Image Backgrounds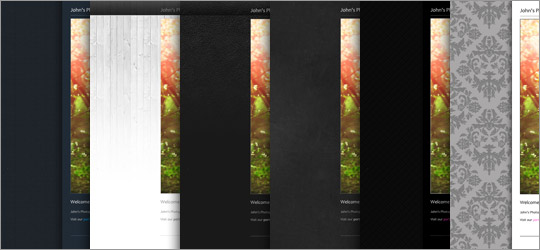 Each theme now has an additional 9 new background textures for you to change the look and feel of your website. Each new texture works across each of the 7 base colour themes.
Other notable updates:
Image Tag's now are more easily visible with tag icons
Comments are collapsed for tidier page presentation
Text typography is more consistent between layouts
More options for tweaking gallery layout styles
Speed tweaks, database performance and minor bug fixes
But wait, there's more ¶
In addition to the upgrade listed above we've also released a brand new gallery template called Xposure, added animated sliders for embedding simple sideshows on your custom pages and enhanced "My Favourites" functionality.
* Please note: Social Sharing is only available on the Plus+ and Premium plans. Upgrade your plan today.